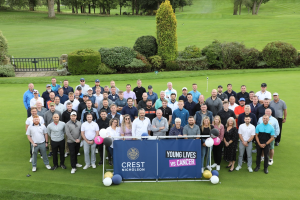 Local housebuilder Crest Nicholson hit the fairway at Olton Golf Club in Solihull to host a charity golf event in aid of Young Lives vs Cancer, which helps children and young people facing cancer diagnoses.
The , comprising Managing Director Tim Brickley, Adoptions Manager Ed Harris, Customer Service Manager Tim Coates, and Trainee Assistant Site Manager Lewis Hillier, were joined by representatives from over 17 contractor partners from across its Midlands operations, from groundworks and construction, to electrical, plumbing and signage.
The event saw teams take part in a friendly day of golf and auction of tickets to sports fixtures, signed memorabilia, golf passes and more. The team from Harley Finishings was , beating the other teams to take home golf equipment, supplied by the club's pro shop.
The event raised over £14,300 for Young Lives vs Cancer, with the funds raised going to families who need financial support whether it be pay for their fuel so they can visit their children in hospital or support with heating bills. The donation will also help Young Lives vs Cancer to provide 'Home from Home' accommodation for families to stay near their child when they are receiving treatment, such as Billy's House in Nottingham.
Tim Brickley, Managing Director, Crest Nicholson Midlands, said: "We're extremely proud of everyone across Crest Nicholson coming together to support Young Lives vs Cancer at this event. Our sponsorship of the charity demonstrates our commitment to the community and desire to deliver more than just homes but to help provide support for those that need it the most. This donation will help Young Lives vs Cancer with their invaluable work to support young people and their families in the local community and beyond through the most difficult times."
Young Lives vs Cancer help children and young people (0-25) and their families to face cancer and everything it throws at them. The charity provides day-to-day support through providing everything from information and guidance to clinical care and specialist play during treatment. Financial support includes helping to access grants and benefits, to liaising with schools, employers and providing help with housing issues. The charity's Homes from Home also offer a free place to stay nearby the hospital so families can be together.
For more information about Young Lives vs Cancer's work, go to www.younglivesvscancer.org.uk
Back