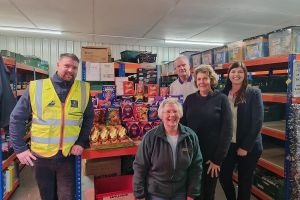 Award winning housebuilder Crest Nicholson has made a donation of Easter eggs to Forest Foodbank located close to its Mirum Park development, as part of the company's commitment to support its local community.
Crest Nicholson colleagues based in its South West office have been collecting chocolate Easter eggs over the past few weeks to donate to the Lydney based foodbank.
The Forest Foodbank opened in 2013, to provide local people with support during a time of emergency or to those who are going through financial struggles, helping to also provide a long-term solution. They work with a number of agencies in The Forest of Dean to support access to food parcels, working towards stopping hunger in the local area.
The foodbank was funded by local churches and community groups in Coleford, and later opened its Lydney distribution centre, as well as their other Cinderford location. The distribution centre has a number of volunteers who give up their time to help deliver packages to those who need it and are always encouraging more volunteers to join the team.
Clare Brimble, Sales and Marketing Director at Crest Nicholson South West, comments "It is great to hear about the incredible work that Forest Foodbank has been doing for the people in our community, their hard work and commitment to the cause is fantastic. Easter is a time for giving and we hope our donation can bring some joy to those who need it the most."
Alex Johnson, Foodbank Operations Manger at Forest Foodbank, said, "At the foodbank we are always striving to make sure that our local community get support at a time of crisis. We are very grateful for all of our volunteers and donors who help us to make a difference to those in need."
Close to the charity project is Mirum Park, which has a range of three and four bedroom homes. The development is located within the beautiful Gloucestershire countryside, between the Forest of Dean and the River Severn with open green space surrounding the homes.
For more information about Crest Nicholson Mirum Park development, call 01594501435.
To find out more information about Forest Foodbank visit www.theforest.foodbank.org.uk
Back