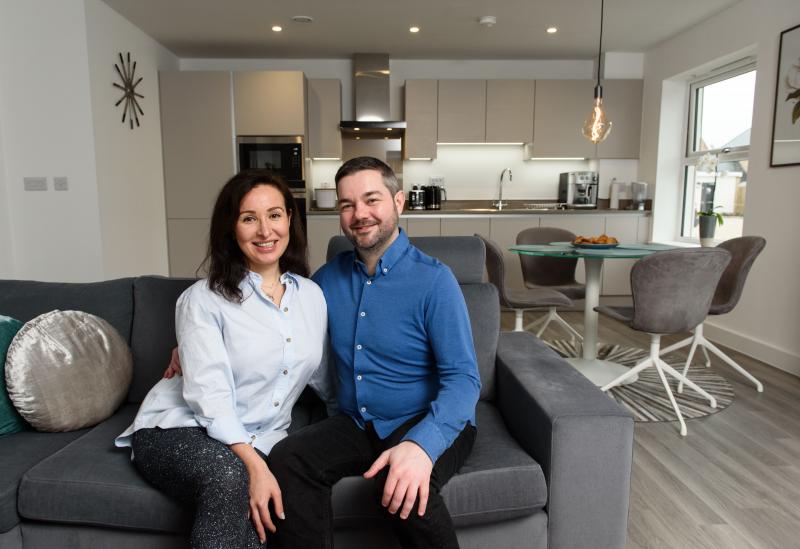 Lee Jones, 37, and his partner, Tatiana Khrol, 36, recently moved into their new two-bedroom home at Crest Nicholson's Park Avenue, Lower Sunbury, with their two-year old cat, Ollie. Having previously lived in a smaller apartment in Richmond, the couple wanted to stay in the local area because they thought it was the perfect place to start a family. They purchased their two-bedroom apartment for £410,000 using the government-backed Help to Buy scheme.
As the couple are expecting their first child together next year, they chose to upsize at Park Avenue because it offered a "much bigger property for our money," said Lee. The couple upgraded to a spacious two-bedroom, two-bathroom apartment, which means they can now have the space to create a home for their growing family. The sheer size of the property was one of their favourite aspects, with Lee commenting that "the dimensions of the rooms are really great" and just what they were looking for. The home also benefits from having lots of windows, giving it a "light and airy feel," Lee added.
Lee and Tatiana deliberately chose a corner plot, which has given them a quiet and tranquil living space filled with natural light. They felt instantly attracted to their new Park Avenue home after seeing the initial apartment plans and taking an exclusive hard hat tour. Lee is particularly pleased that their new home is located right next door to the gym, which really adds to the development's "in-built community feel," commented Lee.
Park Avenue offers an ideal location for the couple, with Lee saying it acts "a bridge between both of their workplaces." Tatiana, who works in nearby Sutton in the oil and gas industry, and Lee, a self-employed business owner, were looking for a good commute time with reliable local transport links and found their new home "ticked all the right boxes" to suit both their needs.
Lower Sunbury offers direct access to the local town centre, which is perfect for the couple. "We really like that it's so close to Bushey Park and an easy, 10-minute walk to the River Thames," said Lee. Although Lee and Tatiana are already familiar with Richmond, they are very happy to have great local shops right on their doorstep, as well as gardens for exploring and close proximity to local schools ready for when their new family begins to grow.
Two-bedroom apartments at Park Avenue are available from £439,950, while prices for three-bedroom homes begin at £734,950. The Sales & Marketing suite is open Monday to Friday from 10am to 6pm, until 7pm on Thursday, and from 10.30am to 5.30pm on Saturday and Sunday. For more information about the development or the Help to Buy scheme, please call 01932 967 980 or visit www.crestnicholson.com/park-avenue.
Back