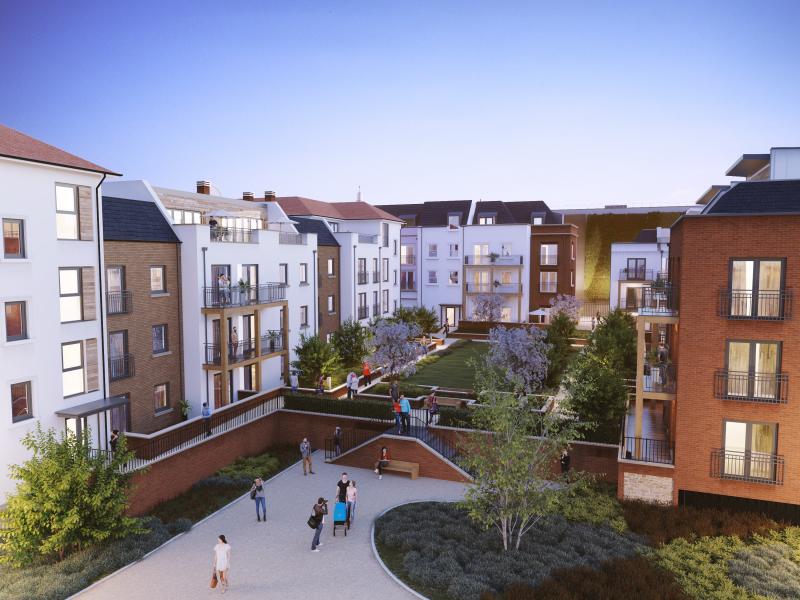 Award winning developer Crest Nicholson has started construction of a £115m regeneration scheme in Farnham Town Centre, now known as Brightwells Yard.
Crest Nicholson has unveiled new computer-generated images to showcase the development. Brightwells Yard will regenerate a disused part of the town to provide a £40m pedestrianised retail and leisure hub of 9,814m2 alongside 239 new apartments, including 72 for shared-ownership, set around a new square.
The extension of Farnham's retail offer will bring a new shopping experience to the town. Retailers currently confirmed for the 25 unit retail centre include M&S Food, Ask Italian and Sea Salt. Brightwells Yard will also be a new focus for leisure and evening entertainment in Farnham, with a six-screen Reel cinema and restaurants, along with a celebration of Farnham's 'craft town' status through new public art.
The scheme, designed by international architectural practice Scott Brownrigg, and which has been part pre-funded by Surrey County Council, incorporates a new Market Square and a significant green space – Brightwells Gardens – that provides a link to the adjacent River Wey path. A new town centre car park is being built, together with improvements to the car park of the adjoining Sainsbury's store, providing additional links to the town centre.
The Grade II listed Brightwell House sits at the heart of the site and will also be refurbished as part of the scheme, adding to its mixture of architectural styles. Brightwells Yard will have a phased opening from Spring 2021 with the final apartments expected to be fully complete by Autumn 2022.
A website has been launched to keep local residents up to date as work on Brightwells Yard progresses. The website will contain general information about the scheme, the programme of works, latest news, a gallery of images, contact information and more. The development update website can be found at: www.brightwellsfarnham.co.uk.
Tim Jones, Development Director at Crest Nicholson, said: "Brightwells Yard is an exciting opportunity for retailers and customers, which will bring greater choice to Farnham Town Centre. The new cinema and commercial offer, alongside much needed housing, will bring a new lease of life to Farnham and will bring the quieter end of the town back into use and right up to date."
Councillor Julia Potts, Leader of Waverley Borough Council, said: "We are pleased that construction has now started on this exciting new development, which will regenerate an area of Farnham that is currently much underutilised. This will not only deliver new affordable homes, but also bring new customers, jobs and investment to the area by significantly improving Farnham's commercial, retail, dining and entertainment offer."
Colin Kemp, Surrey County Council's Cabinet Lead for Place, said: ""This scheme is an excellent example of how we're working with boroughs and districts in the county – and in this case Crest too - to deliver much-needed new homes for residents while also regenerating local areas, delivering improvements to boost economic growth and creating an income to reinvest in council services."
For further information about Crest Nicholson or Brightwells Yard contact community@brightwellsfarnham.co.uk. To view the phasing program, please visit http://www.waverley.gov.uk/planning.
Back