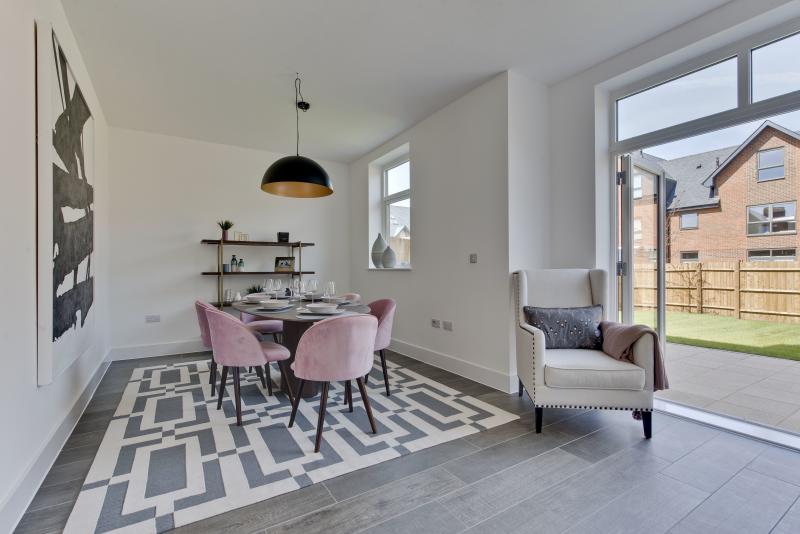 For many families, broken-plan layouts are an increasingly popular and versatile way of living, establishing connectivity between rooms but also offering privacy and an alternative to open-plan homes. Crest Nicholson has recently unveiled a stunning new show home at Upper Longcross in Chertsey, Surrey, designed and styled with broken-plan living in mind.
The Elsenham house-type works functionally to provide a contemporary and practical four-bedroom family home. Additionally, for buyers who reserve this month[1], Crest Nicholson is offering to pay all stamp duty fees on this final sought-after property type.
Leading interiors expert Rebecca Edmunds, Founding Partner at Saskia Bøgh, comments on how they have enhanced the broken-plan layout through clever use of interior design. She said: "Whilst open-plan living is still as popular as ever, layouts that encourage broken-plan living are proving more prominent and practical for families this year, thanks to their flexibility."
"We designed the interiors of the Elsenham show home to reflect the Scandinavian inspired aesthetic of the development as a whole and appeal to all types of families. Making the most of the large glazed windows to maximise natural light and space lends an airy ambience to the property and its broken-plan layout. The separate living room provides the ideal space for entertaining, whilst the flexible kitchen and dining area is a multifunctional room that can be used for a variety of purposes depending on the individual family's needs.
"You can also create broken areas in open spaces through clever use of furniture maintain brightness, whilst offering a sense of seclusion and privacy for relaxing, studying or working. Upstairs, the four generous bedrooms all offer the perfect retreat for parents, teenagers and children alike, therefore we have used natural colours, materials and textures to reflect a calming and appealing environment."
Marcus Evans, Sales and Marketing Director Crest Nicholson Regeneration, comments: "Our broken plan homes have been created in direct response to customer feedback, as we've had many purchasers telling us they struggled to envision furniture and how their home would look with other floorplan styles. As a result, we have carefully considered wall placements across many of our developments, allowing purchasers to find the perfect floorplan to suit their lifestyle. We're already seeing a strong response particularly among family purchasers, with parents saying the flexible layout allows them to have designated 'quiet zones' where children can do their homework or play in separate rooms."
Forming part of Surrey's newest Garden Village, the beautiful collection of homes at Upper Longcross are nestled within mature woodlands and swathes of open countryside, whilst being convenient for commuters. Upper Longcross station is within walking distance of the homes and offers direct links into London Waterloo in under an hour. By car, the M3 and M25 are easily accessible.
The Elsenham is currently available from £870,000. Crest Nicholson's Upper Longcross development offers a range of two-bedroom apartments and four and five-bedroom homes. For more information, please visit www.crestnicholson.com/developments/upper-longcross or call the sales team on 01932 967020
Contact Saskia Bøgh through their website www.saskiabogh.co.uk, via email contact@saskiabogh.co.uk or by phone 07584 244686.
[1] Before the end of June 2019.
The Elsenham is currently available from £875,000. For more information, please visit www.crestnicholson.com/developments/upper-longcross or call the sales team on 01932 967020
Back