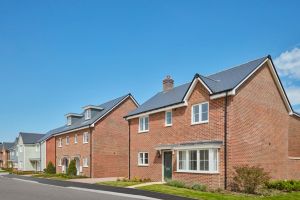 Local housebuilder Crest Nicholson will be hosting a Part Exchange event at its Sevington Lakes and Bilham Lawn developments in Kent, offering those who are thinking of selling their home the chance to find out about schemes available to make their move hassle free.
On Saturday 11th and Sunday 12th November between 10am and 5pm, the expert Sales team at Sevington Lakes and Bilham Lawn will be on hand to talk about the Part Exchange process, including qualifications and what might work best for their future needs and plans. Aimed exclusively at those who are looking to upgrade from their current home to a brand new, energy efficient home, Crest Nicholson will have a number of new Part Exchange schemes available for buyers to explore including their new 105% Part Exchange offering
105% Part Exchange: Crest Nicholson acts as the cash buyer, offering 100% based on the valuations of the property, plus an extra 5% of the offer price.
Part Exchange Plus: Crest Nicholson works closely with estate agents to place your home on the open market. If your home doesn't sell within four weeks, Crest Nicholson will act as the cash buyer.
Part Exchange: Crest Nicholson acts as the cash buyer, providing an easy move with no chain. Crest Nicholson will arrange valuations, deal with estate agents and even pay their fees, plus you can stay in your current property until your new home is ready.
Designed to make the entire selling and buying process stress-free and convenient, Crest Nicholson arranges for three local valuations of the home, saving sellers time and money on agent fees or finding a buyer in a tough market. Without a chain to consider, sellers are also free from the pressure to move to someone else's timeline and are free to stay in their old home until their new one is ready.
As well as the Sales team, there will also be Mortgages First on hand to answer any questions on qualifications, mortgage repayments and finances. Families are welcome to join, with activities to keep children entertained too.
Hundreds of new buyers are already taking advantage of these schemes, including Holly and Josh Scofield. After purchasing their first home using the Government-backed Help to Buy Scheme five years ago, they've taken their second step on the property ladder, upsizing to their new four bedroom Dartford, using Part Exchange to help them make the move.
"One of the biggest factors that played into us choosing a new build with Crest Nicholson was the availability of the Part Exchange scheme," said Holly. "It was the best way for us to go after the size that we wanted, and took away the hassle and worry over selling our old home."
"In terms of the Part Exchange process, the Crest Nicholson team were very helpful from the get-go. They understood what we needed, what we currently had and what our options were. They helped to get us what we needed to complete the Part Exchange and then as a result make the sale of the house as well."
Karen Coulson, Sales and Marketing Director at Crest Nicholson Eastern, said: "With challenging market conditions meaning many potential buyers are seeing the sale of their old property falling through, Part Exchange schemes can be a huge helping hand to give buyers peace of mind at a time when they are making an important decision. With our range of Part Exchange schemes, we work with our customers to make their move a reality and take the pressure off homemovers of dealing with estate agents. We're looking forward to welcoming the local community to Sevington Lakes and Bilham Lawn to discuss their needs and support them in choosing the home and scheme that's best for them."
Three, four and five bedroom properties are available via Part Exchange at Sevington Lakes with prices starting from £425,000 for a four bedroom home, and £620,000 for a five bedroom home. Similarly, three and four bedroom properties are available via Part Exchange at Bilham Lawn with prices starting from £385,000 for a three bedroom home, and £475,000 for a four bedroom.
For more information about the Part Exchange event, or to book your appointment, call 01233 438460 or visit www.crestnicholson.com/finberry
Back