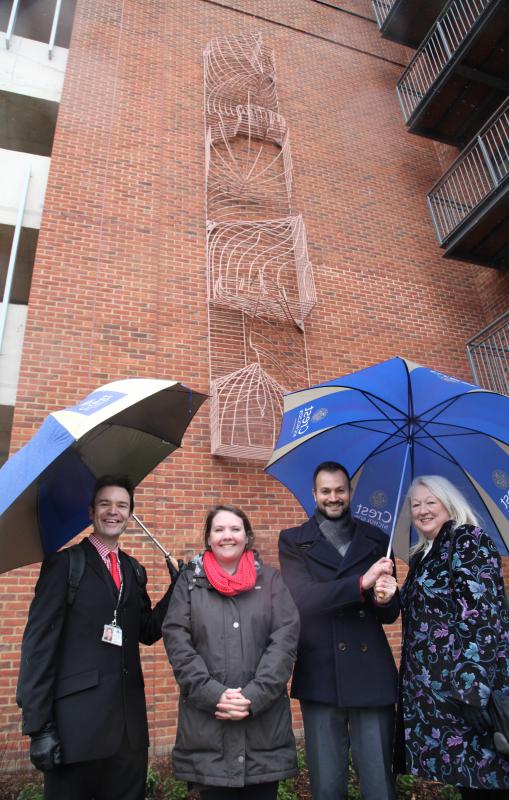 Crest Nicholson has announced a new piece of artwork which has been installed at its Centenary Quay development in Southampton. The piece was officially unveiled to the local community and Centenary Quay residents with councillor Warwick Payne in attendance on Thursday 28th February 2019.
The metal sculpture has been designed by artist Rebecca Gouldson to honour and reflect Woolston's rich maritime history. Drawing on colours, textures and materials often associated with the area's shipping industry past, the seven-metre-long copper sculpture will be attached to the side of one of the new buildings at Centenary Quay.
A talented artist with a passion for metalworking, Rebecca's experience includes recent showcases at the London Art Fair and 'Collect' at the Saatchi Gallery, as well as at SOFA: Sculpture Objects and Functional Art, in Chicago and New York.
The artwork will be a fitting addition to the growing community, with Centenary Quay at Woolston Waterside becoming a 'go to' destination in its own right with both residents and visitors enjoying the chance to eat, drink and live by the water.
Overlooking the water, Centenary Quay at Woolston Waterside is a flourishing community of homes and local businesses that has transformed the former Itchen riverside shipyard in Southampton.
Marcus Evans, Sales and Marketing Director at Crest Nicholson Regeneration said: "We are very excited to welcome another piece of public art at Centenary Quay. The sculpture will pay tribute to the area's rich past in shipping and be a fantastic addition to the growing community of residents.
"Centenary Quay is proving very popular with both local residents and potential investors. With a number of options to eat, drink and enjoy beautiful riverside views we encourage anyone interested to contact our sales team to avoid disappointment."
Speaking of the project, artist Rebecca Gouldson said: "I am delighted to be commissioned by Crest Nicholson to create this sculpture on such a bold scale for Centenary Quay. As someone with strong family ties to the British shipbuilding industry; my grandfather was a shipwright in Birkenhead, I have a long-standing fascination with historic industry and its relics. It was therefore very meaningful to me to be designing a sculpture for the site of a former shipyard, especially one that meant so much to the local community over the past 100 years."
For anyone interested in becoming part of this vibrant new community, Centenary Quay currently offers a selection of two-bedroom apartments and two-bedroom homes, with the government's Help to Buy Scheme available on most properties.
Prices start from £249,500 and only a 5% deposit is needed with Help to Buy. First-time buyers will also benefit from the removal of stamp duty on all properties up to £300,000, helping first-time purchasers save valuable funds for furnishing their dream home.
For more information on Crest Nicholson Centenary Quay, please visit www.crestnicholson.com/developments/centenary-quay or call 02381650031 and speak to a member of the sales team.
Back