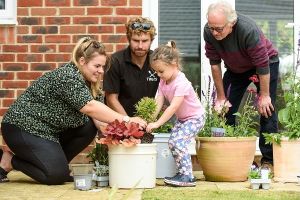 Local housebuilder Crest Nicholson hosted a free gardening workshop this weekend, in partnership with Twigs Nurseries and Steeple Claydon Allotment and Horticultural Society, at its Claybourne development, in the village of Steeple Claydon, Buckinghamshire.
On Saturday 16th September, local residents and the wider community enjoyed an informative and interactive workshop which provided people with inspiration on how to create and care for their dream garden.
As well as providing some top design advice, the experts from Twigs Nursery and Steeple Claydon Allotment and Horticultural Society provided a range of tips and tricks to attendees to suit each type of gardener, from those with green fingers, looking to learn new skills or wanting something low maintenance.
Their top tips for a new build garden included:
Plan ahead: make sure to understand your garden, its climate, the soil type and the level of light it gets. Find out what grows well locally by speaking to local gardeners and experts
Consider a scheme: pick a colour scheme that works for you and your garden. You could even opt for a garden theme to tie everything together, such as a cottage garden or Mediterranean style
Choose your planting: select plants that create interest throughout different seasons, such as flowers, perhaps focusing on the time of year you want to enjoy your garden most
Create interest: you can use hard landscaping and plants to create levels within your garden, and add features such as seating areas, water features, wildlife areas and vegetable or herb gardens
Charlie Joseph, Sales and Marketing Director for Crest Nicholson Chiltern, said: "New build homes provide homeowners with a blank canvas to put their own stamp onto a space and harness their creativity, without the hassle of having to clear out an overgrown garden which could be the case with a second-hand home. However, it can feel daunting if you don't know how to get started. We were pleased to see so many local people join us at the weekend and get stuck into our gardening workshop, and I'm sure that everyone took away useful advice and inspiration that they can use back home, in their own gardens.
"We are grateful to partner with local organisations Twigs Nurseries and Steeple Claydon Allotment and Horticultural Society who brought their expertise and knowledge to the session, and we look forward to hosting similar workshops in the future."
Lloyd Michell, Owner of Twigs Nurseries, commented: "Thank you to Crest Nicholson for extending the invite for Twigs Nurseries to join the gardening workshop held at Claybourne. We were pleased to see the shared passion for plants and gardening at the event, and would welcome people to get in touch with us if they'd like to hear more from our knowledgeable team for their gardening needs, or explore our offerings."
Paul Stone, Committee Chair of the Steeple Claydon Allotment and Horticultural Society, added: "Twigs Nurseries have a wealth of experience and expertise and come well recommended around the village of Steeple Claydon. They own a local family-run plant nursery, offering advice on the best plants to buy, bespoke landscaping and ongoing garden maintenance. It was great to see them showcase and inspire new homeowners at Crest Nicolson's Claybourne development, demonstrating how simple changes can transform a blank canvas into a vibrant garden.
"We also wanted to thank Crest Nicholson for sponsoring our allotment show between 2022 – 2024. The Society is run by volunteers and our annual show is free to attend and enter, so we rely on support from our communities and local businesses."
Established in the 1940s, Steeple Claydon Horticultural and Allotment and Horticultural Society is an integral part of the local area. Each year, they run a show at Steeple Claydon village hall. To encourage participation, the show is now free to enter and attend, and is receiving support from Crest Nicholson who is sponsoring the show between 2022 – 2024 on behalf the community at Claybourne.
Located just five miles away from Claybourne, in the village of Thornborough, Twigs is a family run nursery that works with leading producers and suppliers around the world to ensure their plants and garden accessories are of the highest quality.
Ideally suited to homebuyers looking for a rural village lifestyle, Claybourne is located within the heart of the Buckinghamshire countryside. The homes at Claybourne benefit from generously sized private gardens, with double French doors leading outside, enabling homeowners to make the most of indoor-outdoor living, ideally suited for entertaining and enjoying family life.
Just four miles south of Buckingham and 16 miles from Milton Keynes, Claybourne boasts easy access to local amenities. Towns and cities like Bicester, Oxford and London are also within easy reach too. Residents have access independent boutiques, popular high street retailers, discounted brands at Bicester village, restaurants, and leisure activities on their doorsteps. For those who love the outdoors, Buckinghamshire is home to large parklands and gardens, including at Stowe House, where residents can draw inspiration from for their own gardens.
Prices for four bedroom homes start from £490,000 and prices for five bedroom homes start from £600,000, with SmoothMove, Part Exchange and Deposit Unlock available on select plots to make the home moving process easier. For more information, visit the sales suite, which is open Thursday to Monday, from 10am until 5pm. Alternatively, call 01296 340 756 or visit www.crestnicholson.com/claybourne.
Back