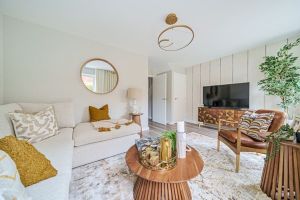 Local housebuilder Crest Nicholson is hosting an exclusive hard hat event at its Centenary Quay development in Southampton, Hampshire, this weekend.
Taking place on Saturday 28th and Sunday 29th October, between 10am and 5pm at Centenary Quay, prospective buyers will be able to take a look behind the scenes of the final houses being released at the popular development.
As well as launching the final collection of four bedroom homes, including a brand new four bedroom show home, the 'Hexham' house type, Independent Financial Advisors, Fairstone, will be on hand alongside Crest Nicholson's sales executives to answer any questions that buyers have and help simplify the homebuying process.
Eileen Guihen, Sales and Marketing Director and Deputy Managing Director at Crest Nicholson South, comments: "We're so excited to welcome prospective buyers to Centenary Quay to see the final houses available. We know there will be a lot of interest in these homes given the milestone release and popularity of the community, so we'll have all the experts on site as part of our event to help make the home buying process as stress free as possible.
"We encourage anyone interested in owning a piece of Centenary Quay history to sign up to the event to avoid disappointment."
Nick Gilliam, New Build Manager and Mortgage and Protection Adviser at Fairstone, adds: "For anyone looking to buy a new home, we'd recommend coming along to the event at Centenary Quay, where our advisers will be able to provide you with all the information to get you one step closer to securing your new home. On the day, please come prepared with details of your income, savings and any debts and our adviser will be able to assess your individual needs to get you in a position where you are able to reserve a new home at Centenary Quay."
Centenary Quay is situated beside the River Itchen and incorporates open space with plenty of amenities on the doorstep including a library, gym, restaurants, coffee shop and beauty salon. Just across the river is Southampton city centre, where residents of Centenary Quay can make the most of the shops, bars and restaurants right on their doorstep, including at Watermark, West Quay and Ocean Village.
With Southampton Central train station less than three miles from the development, London is within easy reach via regular trains and a journey time of just an hour and fifteen minutes. The M27 and M3 motorways are close by, ideal for those looking to reach the New Forest, Portsmouth, London and beyond.
For more information or to secure an appointment to view the homes at the events on 28th and 29th October, please visit www.crestnicholson.com/centenary-quay. Alternatively, call 02382 552 399.
Back