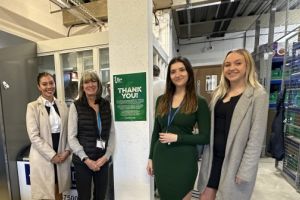 Local housebuilder Crest Nicholson is supporting The Witney and West Oxfordshire Foodbank on behalf of the community at its Colwell Green development, in Oxfordshire. The housebuilder has set up a donation point at its Colwell Green Sales Suite for visitors and residents to donate non-perishable items the foodbank needs, to support people who are in need.
Crest Nicholson Chiltern has also set up a donation point in its office and is participating in Witney Foodbank's reverse advent calendar. Each day in November, employees add a specific item to the donation point that the foodbank needs, such as soup, shower gel, and long-life milk, helping to ensure the foodbank is stocked with a range of items.
Crest Nicholson has also sponsored the Foodbank, which will enable it to top up the donations with missing items and purchase fresh food. Members from the Crest Nicholson team recently visited the charity to learn more about how it supports those in the local community with access to essential supplies when they're struggling.
Charlie Joseph, Sales and Marketing Director at Crest Nicholson Chiltern, comments: "We are proud to partner with Witney Foodbank to help them continue to provide vital support to those in our community who are facing hardship. With an uptick in the number of people, including children, requiring packages of food and other essentials, foodbanks in the UK are under immense pressure.
"At Crest Nicholson, we're committed to helping the wider community in Witney and the surrounding areas; and are incredibly grateful for the work that Witney Foodbank is doing to provide emergency relief to those in crisis. The Foodbank greatly encourage people to donate tinned goods and meat that have a long shelf life, including long-life milk, teabags, instant coffee and chocolate. The collection point is located in our sales suite, and we'd encourage anyone who is able to donate essential, non-perishable food items. We are open from Friday to Monday, 10am until 5pm each week, and are extremely grateful for any supplies from residents and visitors."
Stephanie Deslandes at Witney and West Oxfordshire Foodbank, added: "We are thankful to Crest Nicholson for their support to our foodbank, which will help us to provide nutritionally balanced food for at least three to five days for people in crisis. It is key for us to get support from local businesses to ensure we can continue to be there for people when they really need us, especially amidst the ongoing cost of living crisis. Thanks again, Crest Nicholson."
Colwell Green is located just three miles from Witney Foodbank and has six homes remaining. To speak with a member of the sales team call 01993 460554, or visit www.crestnicholson.com/colwell-green for more information.
Back