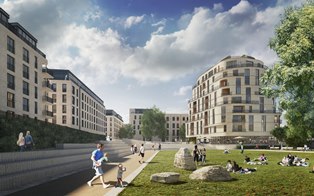 Savvy house hunters wanting to make their budget go further should do some homework on new home developers' half year and year-end, as they will be in a stronger position to negotiate a good deal.
That's the view of Anna Fairman, director at Savills who says new home developers looking to boost their sales figures are more open to offers as they approach their financial half year and year ends.
Anna said: "Many of the main property developers are listed on the stock exchange and as they approach financial reporting time will be looking to hit targets.
"If you can complete just before or on the half-year or year-end date, you will be in a great position to negotiate a discount. Buyers may also be able to negotiate items such as carpets, furniture or even get some of their fees paid such as stamp duty.
"But it's all about the timing and a little homework could result in a sizeable saving."
Having represented some of the West's biggest and most ambitious new home developments, the effervescent property expert is currently advising Crest Nicholson on its impressive Bath Riverside development.
Including a brand new building called Sovereign Point, the range of one and two-bedroom apartments have already captured the imagination of discerning buyers looking for somewhere new that's close to Bath city centre and next to the River Avon.
When launched, six properties were snapped up by house hunters keen to secure their dream new home and is indicative of the appetite for newly built property in the world heritage city.
Anna added: "Sovereign Point is a fantastic addition to the Bath property scene and interest has been high. But knowledgeable buyers who do a little background work will also find they hold all the aces when it comes to putting in an offer.
"Better still, if there is any finished stock readily available, then the developer will go out of their way to secure a sale. Just be confident and do the research. It'll be surprising what you might be able to negotiate!"
For further information on Bath Riverside please call 01225 463517 or visit www.bathriverside.co.uk
The Bath Riverside sales and marketing suite will be open over the Easter holidays.
Back