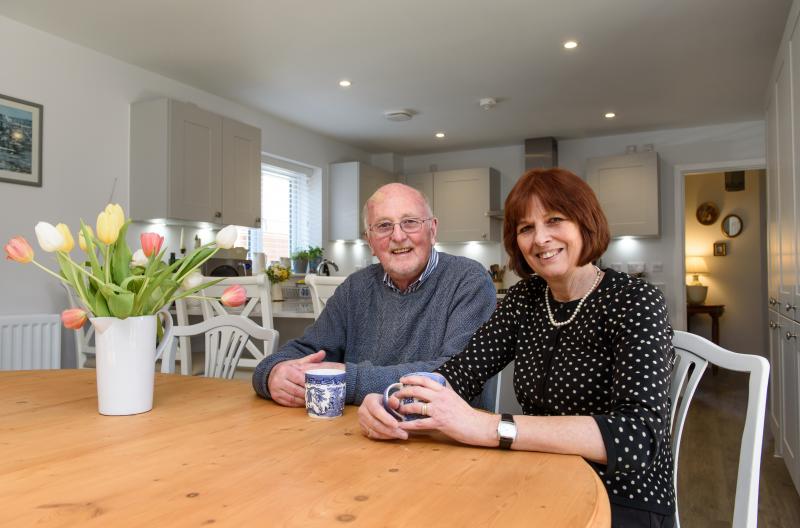 Moira Derbyshire, 63, and her husband Brian, 79, recently moved into their new family home at Crest Nicholson's Birchen Oak, on the outskirts of Haywards Heath, West Sussex. The couple purchased their four-bedroom house with Crest Nicholson contributing towards their Stamp Duty costs.
The Derbyshires and their daughter Amy, nine, were looking for a more modern property, and the natural light and high-quality finish of the home were key selling points for the family. Moira said as soon as they stepped inside, "we totally fell in love with the kitchen/dining-room," and the standout breakfast bar feature and spacious layout allow them to enjoy plenty of family time in a warm, light and relaxing environment.
Moira said a huge part of the appeal for buying a new build was the "easy maintenance living" and their "ability to move straight in," while also putting their own stamp on the home through Moira's interior design choices. This means it "made absolute sense for us to buy a property that was ready to live in immediately and we particularly like the fact that mature trees have been retained in the development."
The Derbyshire's interior design plans were inspired by the royal blue shades exhibited in the show home at Birchen Oak and the couple were excited to get started on some design-led DIY prior to moving, something that Moira in particular has always been passionate about. They chose to paint and upholster much of their existing belongings to "bring new life to their furnishings" and create fresh, vibrant interiors.
Moira said they have incorporated "lots of blues and greys," to form the tasteful base colour palette throughout their new home whilst reupholstering their furniture to a deep French navy, creating a dramatic and sophisticated statement. Their new home now offers a charming blend of old and new, enhanced by standout pieces, including a Moroccan lamp, elephant-themed curtains and Moira's favourite "cross-back chairs" chosen to complement their family-friendly breakfast bar.
Before moving to Birchen Oak, the family were living in East Sussex and commuting 90-minutes a day to drive their daughter to-and-from her new primary school in Lindfield. Amy is now much happier having a shorter car journey or walking to school. Moira said "we are really pleased that Amy is settled and happy" before she prepares to attend secondary school next year. Local secondary school, Warden Park Academy, which is a short journey from Birchen Oak, holds an impressive record with an overall Ofsted rating of "Good" and an "Outstanding" rating for personal development, behaviour and welfare, and Oathall is another good school in walking distance.
The family commended the Crest Nicholson team for providing them with "excellent support" throughout their moving process, especially during stressful periods, by keeping the property chain moving and ensuring that the family's needs were always met. They can also now spend more time together at home, along with their beloved household pets which include their three cats, Millie, Fleur and Purdy, and golden retriever Cody.
Four-bedroom homes at Birchen Oak are available from £649,950, while prices for five-bedroom homes begin at £999,950. For more information about the development or the Assisted Move or Part Exchange scheme*, please call 01444 708 720 or visit www.crestnicholson.com/birchenoak. Alternatively, visit the marketing suite and show home which are open Monday and Friday from 10am to 5pm, Thursday 10am to 7pm, and between 10.30am and 5.30pm on Saturday and Sunday.
*T&Cs apply
Back