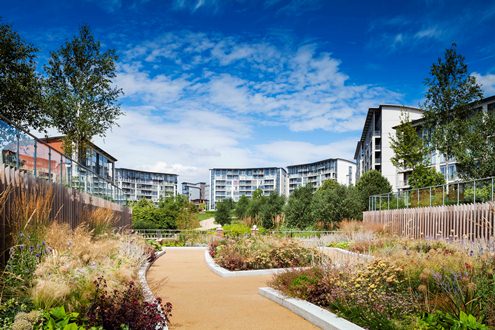 Award-winning housebuilder Crest Nicholson is celebrating after its Park Central development beat six other finalists to claim the 'The Placemaking Award' at this week's Property Week Awards. The Crest Nicholson Regeneration scheme was recognised for its work regenerating the Lee Bank area in Birmingham during the national awards ceremony on Tuesday 19th April at The Grosvenor House Hotel in London.
The prestigious Property Week Awards aim to recognise a variety of housing schemes and architectural projects across the country, and are designed to celebrate creativity and exceptional practice in craftsmanship. 'The Placemaking Award' was designed to reward mixed use developments that have regenerated or physically improved the environment on and around a particular site.
Park Central, Birmingham has been an ongoing 15-year project which Crest Nicholson Regeneration has delivered in partnership with Birmingham City Council and Optima Community Association. The development has totally transformed the former Lee Bank Estate – which was once a notorious hot spot for crime and poor social behaviour – into a desirable place for city centre living. Included in the scheme is an eight-acre park at the centre, which has proved very popular with the local community. In total Crest Nicholson has delivered 1,309 new homes to date on-site and the final phase of 339 units will be released for sale in the autumn of this year.
Speaking of the award success, Mary Timlin, Sales and Marketing director at Crest Nicholson, said: "We are delighted that Park Central has been recognised at the Property Week Awards. As with all of our housing developments, our vision for Park Central was to create a sustainable community that supports the local economy and is a thriving, attractive place to live. To be awarded 'The Placemaking Award' is a fantastic achievement for the Park Central team.
"We've seen a phenomenal amount of interest in the Park Central development which is testament to the quality of this outstanding development."
For more information on the Park Central development and Crest Nicholson, please visit: www.crestnicholson.com/parkcentral.
Back