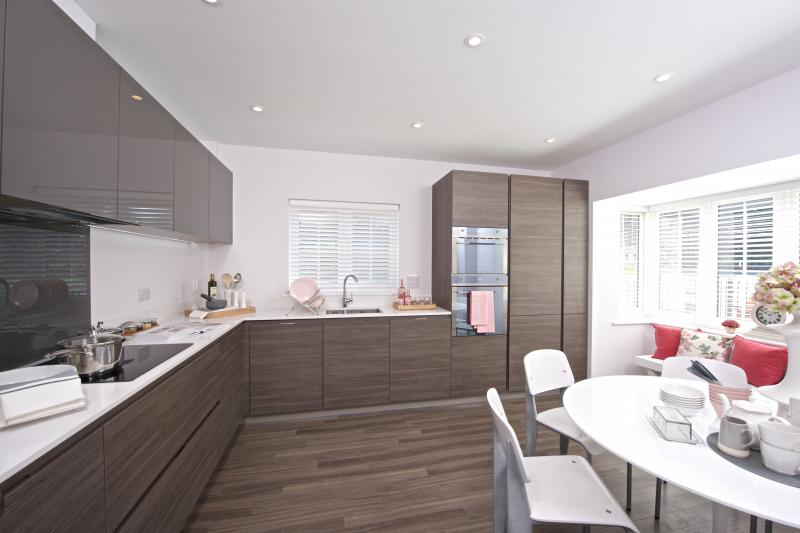 One of the biggest shifts in home design trends over the past decade has been the rising status of the kitchen. No longer resigned to a separate back room, the kitchen now sits proudly in the centre of the household, often combined with a dining area to create a more sociable space.
They have gradually become the hubs of our homes, perfect for entertaining and a place where homeowners can interact with their guests while cooking. We're are also spending more time than ever in the kitchen, with the average adult clocking up five hours and twelve minutes cooking and preparing meals every week – that's two years of our lives in total!1
Award-winning housing developer Crest Nicholson is supplying the growing demand for integrated kitchen dining spaces. Annette Cole, Sales and Marketing Director, Crest Nicholson Eastern, explains: "Now that buyers are utilising kitchens as the heart of the family home, we have implemented various measures to ensure that kitchens occupy a central point in a household. For example, in each house type at The Oaks, the kitchen either extends into a breakfast or a dining room, enabling busy mums to keep an eye on their children as they eat or do their homework at the table".
The Copthorne, a four-bedroom detached house at The Oaks, is a prime example of a design created for contemporary living, with the kitchen and dining area at the centre of the home. The large open plan ground floor space accommodates a kitchen, breakfast area and a dining room, allowing for seamless transition from family breakfasts to evening meals and entertaining, all in one accommodating room.
The spacious and airy room has a neutral colour scheme with light beige and oak finish wall units and white stone counter tops in the kitchen area. The fully fitted kitchen comes complete with contemporary Commodore and SMEG integrated appliances.
A separate utility area leading off from the room creates space for washer/dryer facilities and ensures the kitchen remains dedicated for cooking and dining in style.
And there is also a further opportunity for alfresco dining outside, with large bi-fold doors opening from the kitchen onto a private garden, doubling the size of the entertaining area.
The dining room offers ample floor space for a family dining table, while a large bay window invites the outside in and creates a feeling of space and light.
The Copthorne at The Oaks is ready to move in to and is available from £580,000. For further information, please contact the sales and marketing team on 01342 778 193 / www.crestnicholson.com/theoaks
Back