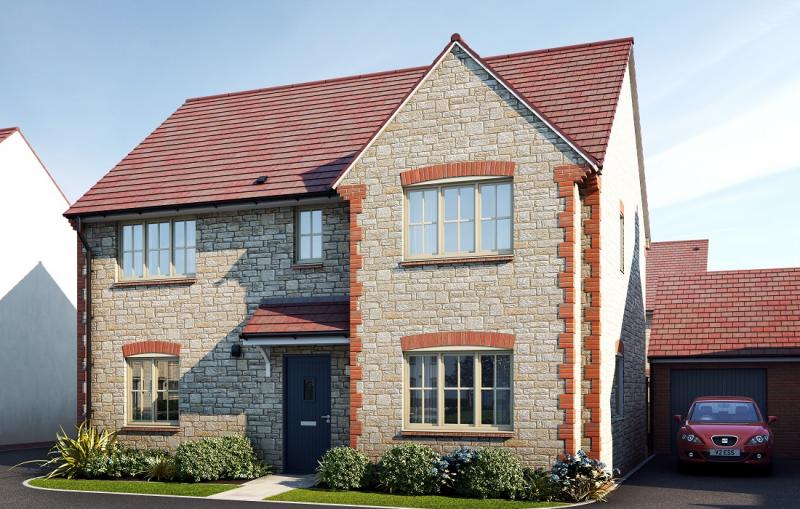 Hayley Zaple, her husband Barry, their two young children and dog Barley, recently used SmoothMove and the Government-backed Help to Buy scheme to upsize into a four bedroom "Caldwick" home at Langford Fields in Somerset.
"SmoothMove and Help to Buy were both really useful schemes that we were able to take advantage of," explains Hayley. "Help to Buy allowed us to move into a larger home than we would otherwise have been able to afford. At the same time, SmoothMove meant that Crest Nicholson took all the stress out of selling our old home. They sorted valuations, photographs and even arranged viewings for potential buyers, allowing us to concentrate on getting ready to move into our new home."
Having previously lived in a smaller four bedroom home in Portishead, the family were looking for a bigger property with a playroom for the children to enjoy and Langford Fields seemed the obvious choice. The transport links are excellent for a rural community, with the M5 just 15 minutes away and Bristol Airport 20 minutes by car.
"The location of Langford Fields is ideal for us. We're within walking distance of Churchill Primary School and the pre-school, and we're in a great catchment area for secondary schools. This was a real selling point for us with two young children. We're also near our extended family, which was important as it means they can help with childcare."
Hayley continues: "We were looking for the best of both worlds – we wanted the convenience of being close to a city but the peace and quiet of country life. We have everything we need right on our doorstep - a local shop, swimming pool and sports centre are all close by, and the surrounding villages offer an even bigger variety of amenities too."
"What's more, thanks to the semi-rural location of Langford Fields we have access to loads of green space; the beautiful Blagdon Lake is only five minutes away, but we're also close to the seaside town of Clevedon – just seven miles. It was also important for us to have a lot of places to take the dog out for a walk, and now we're right next to the Mendips. The children love days out at the nearby Puxton Park and Court Farm, and the Mendip Snow Sports Centre is also close."
"Langford Fields is a really unique place to live. We have the ocean to the west, vast limestone hills to the south, two picturesque lakes to the east and then the vibrancy of Bristol to the North. It's easy to see why the area is quickly becoming a property hotspot."
The homes at Langford Fields are finished with brand new fixtures and fittings to ensure you can live a low-maintenance lifestyle. This includes the Moores Definitive range kitchens with Bosch appliances, making for a stylish look.
A range of three, four and five bedroom homes are available at Langford Fields, with prices ranging from £315,000 to £520,000. The Government-backed Help to Buy scheme is available to help first time buyers and second-steppers make their move on or up the property ladder while Crest Nicholson's SmoothMove initiative can help take the stress out of moving. For more information call 01934 252009 or visit https://www.crestnicholson.com/developments/langford-fields/.
Back