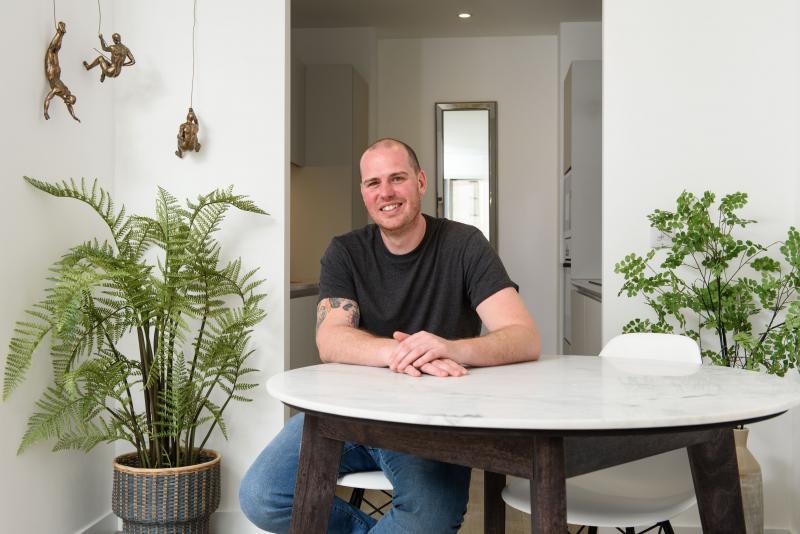 Freddie Banks was recently able to purchase his new two-bedroom at Crest Nicholson's Dylon Works in Lower Sydenham thanks to the Government's Help to Buy scheme. He said: "The combination of Help to Buy and Crest Nicholson's contribution to my Stamp Duty both helped me take my first step onto the property ladder".
While the Assistant Headteacher hadn't previously considered a new-build property, Freddie had heard about Crest Nicholson's Dylon Works site, which is just a short walk away from both his work and family home. Convinced by the development and its focus on communal outdoor space, Freddie is now happily settling into his two-bedroom ground floor flat in Lower Sydenham.
Speaking about the buying experience, Freddie said: "The sales team have been brilliant throughout the entire process. From day one, they made me feel comfortable with the process and made it all as simple and stress-free as possible".
He continued: "The development has been really well thought out and there is plenty of communal and private outdoors space; something which is rare to find so close to Central London". Each home at Dylon Works comes with parking, is finished to a clean, crisp & contemporary design and surrounds a beautiful communal garden to relax or socialise in. Freddie said: "I've already made great friends at Dylon Works. There's a community spirit throughout the development, which is focused around the communal garden".
Since moving to Dylon Works, Freddie has been preparing for the Lake District Triple Challenge to raise money for research into Alzheimer's. To complete the challenge, Freddie will be making the 10km climb to the summit of the Old Man of Coniston, a 12km mountain bike through Grizedale Forest and a 1.5km kayak around Coniston Water.
Marcus Evans, Sales & Marketing Director of Crest Nicholson Regeneration said: "We're proud to have sponsored Mr Banks' fundraising efforts. The sense of community at Dylon Works is well established and on behalf of the community there, we would like to wish him the best of luck for his challenge ahead".
Crest Nicholson's Dylon Works is perfect for first time buyers and second steppers alike, and is located directly next to Lower Sydenham station, offering access to Central London within 16 minutes. The collection of two and three-bedroom apartments are available from £455,000. For more information, or to book an appointment with our sales team, call 020 3437 1262 or visit www.crestnicholson.com/dylon-works.
Back