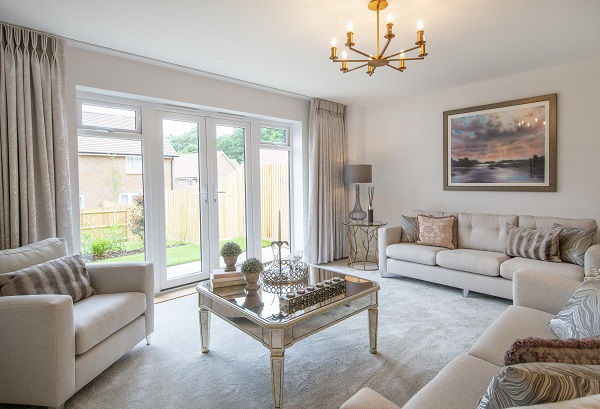 Award-winning developer Crest Nicholson's Tall Trees at Bolnore Village in Haywards Heath, West Sussex, is offering a unique opportunity for local families to purchase a five-bedroom family home using the Government's Help to Buy scheme*. The last remaining four and five-bedroom homes are currently available for those wanting to purchase new on site, all set along beautiful tree-lined avenues leading up the development entrance.
The five-bedroom 'Tilehurst' is available to move into now and is an thoughtfully designed featuring a contemporary, fully-fitted kitchen with integrated appliances. A separate living/dining room with French doors leads out on to the garden, while the first floor comprises of four spacious bedrooms. The house also boasts an additional en-suite and a large family bathroom providing more than enough space for those with busy lifestyles. The entire second floor is dedicated to a main bedroom complete with en-suite and fitted wardrobes, which offers a luxurious retreat for adults to enjoy away from the hustle and bustle of family life. Residents also benefit from access to excellent local schools, including Worth Independent School ranked the second highest school within the Faygate area and just 18-minutes by car.
Under the Government's Help to Buy scheme, home buyers could be eligible for an interest free equity loan for up to 20% of the property valueenabling people to secure their dream home with just a 5% deposit. This means that the £574,950 Tilehurst home is available with a 5% deposit of £28,748.Anticipated monthly mortgage repayments could start from £2,471 a month over 25 years or £2,122 over 35 years.
Christine Tiernan, Sales and Marketing Director, Crest Nicholson, added: "Tall Trees at Bolnore Village is a highly sought-after area for families looking for their dream home in a family-friendly location. The 'Tilehurst' itself is a rare opportunity to purchase a five-bedroom property through the Help to Buy scheme, which will support all residents' day-to-day needs and growing families looking to move up the property ladder.
"There is a consistently high demand for well-sized family homes in the Haywards Heath area due to its convenient location and picturesque setting, and we are very pleased to welcome more homeowners to this thriving community."
The five-bedroom 'Tilehurst' at Tall Trees at Bolnore Village is available for £574,950 using the government's Help to Buy scheme. For further information visit the Sales and Marketing Suite which is open 10am to 5pm on weekdays, 10am to 7pm on Thursdays and from 10.30am to 5.30pm on Saturday and Sunday. Alternatively, please call 01444 708411.
*Terms & Conditions apply.
Back