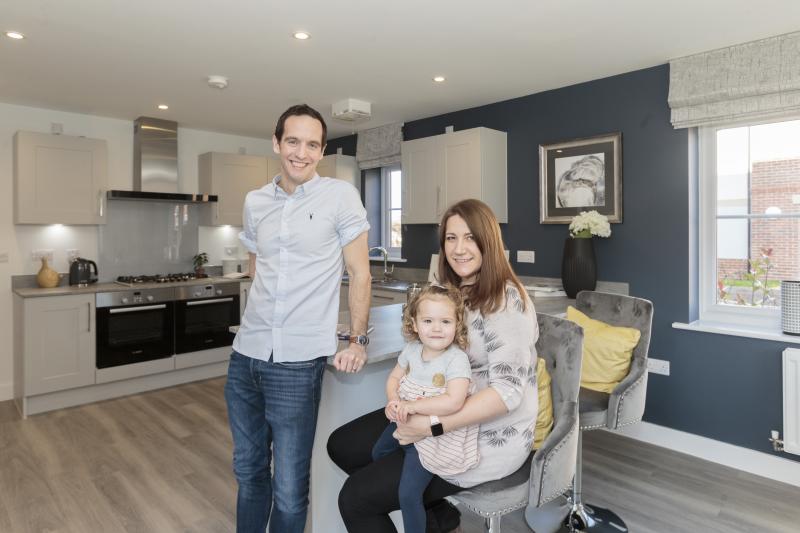 Mark, 40 and his wife, Jenny Edwards, 42, moved into their four bedroom home in Crest Nicholson's Mulberry View, Wokingham earlier this year. The couple live with their new-born daughter, Jessica who is just 18 months old.
The family lived in Crest Nicholson's neighbouring site, Mulberry Grove, in a three-bedroom home before deciding to upsize to the four-bedroom Orchard house type in Mulberry View. Mark said, "truthfully, Jessica takes up the space of about 15 people, so we needed to expand and upsize to have more space, but we also loved the area, so this just made sense.
"We chose the Orchard because we had seen the show home which we loved but the main selling point was the gallery landing area. It's so spacious and really makes all the difference to the house. The garage was also a huge bonus as we didn't have one in our previous home so that was another aspect that was important for us, especially now we have a little one with so much to store!"
Jenny continued "we used part exchange which made so much difference and we also took advantage of an incentive where Crest Nicholson paid for a portion of our stamp duty which, you can imagine with a new-born, was too good to be true".
The area was a key part of the family's decision to move to Mulberry View, Jenny explained, "Wokingham is a really small, lovely market town with great places to eat. There's a little playground that's being built right opposite the house so it's perfect for when Jessica grows up and the development is really quiet so it's lovely to get out of the house and go for a stroll with the pram when we need a breather. We're in a great catchment area for schools and less than 15 minutes' walk into town so it's located perfectly for us."
Recent research by Crest Nicholson South found that 90% of parents believe that outside areas including parks, gardens and playgrounds are integral when looking to move to a new area and now their number one consideration when moving. Another key factor for parents was good schools, with 68% saying that a good school was their top priority and would relocate to ensure their child could attend, just like the Edwards' who were looking for the perfect home for Jessica to grow up in.
69% of parents also said that their kids are their number one priority when moving. However, they also want to ensure the build is up to a high standard. Jenny explained "we've adapted what was meant for a study downstairs, or at least in the show home it was, into a playroom so Jessica can have all of her toys in there and a separate space that's just for her whilst she grows up. We really liked the original designs and the garden was landscaped when we moved in, so now all we need is curtains and we're done!"
"The sales team were also fantastic and bought Jessica a little Peppa Pig toy which was the perfect finishing touch to the move".
The Mulberry View development has a collection of two, three, four- and five-bedroom houses and one- and two-bedroom apartments available. House prices start at £379,950 while apartments start at £249,950 with the government backed Help-to-Buy: Equity Loan* scheme or Part Exchange* available on selected properties.
To find out further information, call 01189 115 527 or please visit: https://www.crestnicholson.com/developments/mulberry-view/ or visit the Marketing Suite, which is open Monday, Tuesday, Wednesday, and Friday from 10am and 5pm, Thursdays from 10am until 7pm and between 10.30am and 5.30pm on Saturday and Sunday.
Back