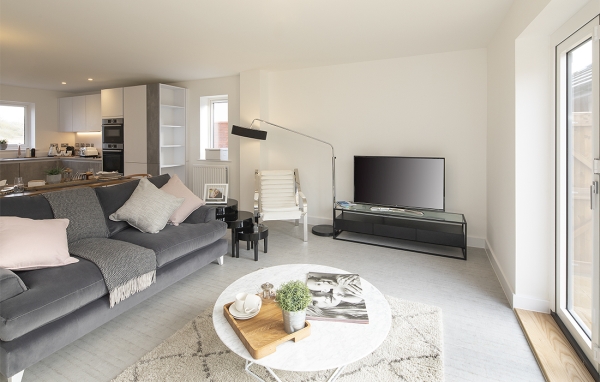 Lyndsay Walsh, a web developer, recently moved into a brand new three bedroom semi-detached home at Stray Park in Swindon, part of Crest Nicholson's Tadpole Garden Village development.
Having previously rented in Crowthorne, Berkshire, Lyndsay decided that she wanted a place of her own to relax in after work. "I work in Maidenhead so the commute can be tough occasionally," explains Lyndsay. "Being able to come home to my own space is great. I live on a quiet street with loads of green space nearby so it's perfect for unwinding after a busy week."
Since moving in, Lyndsay hasn't had to make any major changes thanks to the high standard that all Crest Nicholson homes are finished to. She continues, "I travel a lot for work, so I haven't had much time to think about decorating. Fortunately, the house comes with fully fitted kitchens and bathrooms so instead I've focused on adding personal touches through window dressings. I love having so much space inside – I've decided to use the third bedroom as a study so I can work from home and spend less time on the road."
Being a first-time buyer, Lyndsay was new to the process but said that Crest Nicholson's sales team at Stray Park at Tadpole Garden Village helped to make the process as smooth as possible. Lyndsay said: "Everyone in the sales office was really helpful and answered all my questions. I used the Help to Buy scheme so I had a few questions about how it worked but they made me feel at ease even after I'd moved in."
Lyndsay's commute is made easier by the fact that the A419 and M4 are both accessible from Stray Park at Tadpole Garden Village. A number of local bus and train stations are also within proximity of the development, which means that the hustle and bustle of city life is never far away. Homes at Tadpole Garden Village provide a variety of different layouts, with each phase of the development contributing quality new homes for a sustainable and healthy community.
Find out more about homes at Stray Park at Tadpole Garden Village, with three bedroom houses priced from £310,000 and four bedroom houses available from £405,000 by visiting: https://www.crestnicholson.com/developments/stray-park-at-tadpole-garden-village/.
Back