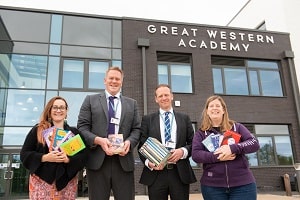 Award winning developer Crest Nicholson has donated the first funds to support the Great Western Academy's newly formed parent teacher association, The Friends of Great Western Academy. The new association will organise fundraising initiatives in support of pupils and teachers at the state-of-the-art secondary school, the first of which is to help fill the school library with books.
Located at Crest Nicholson's Tadpole Garden Village, the £21 million Great Western Academy is the first secondary school in Swindon for a decade with facilities including a theatre, sports hall, dance studio, drama studio and specialist science and technology learning areas.
The school opened its doors in September 2018 and currently boasts more than 150 year 7 pupils, with a Sixth Form due to open this year. Eventually the school will help educate more than 1,200 students from the local Swindon community.
David Clarke, Great Western Academy Assistant Principal and lead teacher on The Friends of Great Western Academy, said: "Since the school opened late last year, we've seen a real sense of comradery amongst, students, parents and teachers – hence the formation of the parent teacher association. Although it is rare for secondary schools to have parents and teachers come together to form an association, it is a testament to the strong community values at Tadpole Garden Village.
"Crest Nicholson's donation is a valued contribution towards fundraising for the school library, and something that school pupils will continue to benefit from for years to come."
Andrew Dobson, Managing Director at Crest Nicholson Strategic Projects division, said: "We are pleased to see the vibrant community spirit at Tadpole Garden Village has extended to the parents and teachers at the new Great Western Academy. Our mission is to not only build houses and infrastructure, but to support residents in creating a thriving community legacy.
"We hope the pupils at the school can enjoy the books that are purchased as part of the donation for years to come."
Tadpole Garden Village is a vibrant community that will comprise 1,855 homes on completion. A range of one and two bedroom apartments and three to five bedroom homes are available to buy from £162,000 to £599,000. For more information visit www.crestnicholson.com/developments/tadpole-garden-village
Back