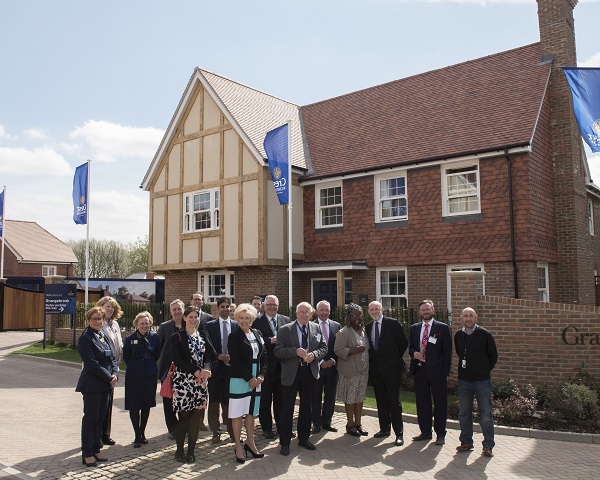 Award-winning developer Crest Nicholson was joined by members of the Broxbourne Council last week for an official look at the progress of the contemporary, new, fit-for-purpose club house at Rosedale Sports Club.
Deputy Mayor, Carol Crump, and Cllr Mark Mills Bishop were joined by Crest Nicholson's Chief Executive, Stephen Stone, to view the progress of the club house site, which is due to open later this year. Crest Nicholson has a long-standing relationship with Rosedale Sports Club, acting as a sponsor for nearly three years.
Following the tour of the club house, Crest Nicholson's latest development in Hertfordshire, Grangebrook, was officially launched with a ribbon cutting ceremony and speeches by the VIP guests. Grangebrook is an exclusive collection of 14 luxury five-bedroom family homes on the edge of Goffs Oak, Cheshunt.
Stephen Stone, Chief Executive at Crest Nicholson, said: "We're proud to continue our support of the much-loved Rosedale Sports Club by delivering this brand new, fit-for-purpose club house. As responsible housebuilders, we are committed to supporting the local community in the areas where we develop our houses. We are pleased with the progress achieved on site so far and look forward to providing this local facility that will be enjoyed by local residents, including our future Grangebrook buyers.
"Marking the official launch of Grangebrook, our latest development in the area, with members of Broxbourne Council is a great pleasure. This luxury collection of houses is testament to the high specification of homes built by Crest Nicholson and has been meticulously designed to suit the needs of a modern family."
Cllr Mark Mills-Bishop, Leader of Broxbourne Borough Council, commented: "Once complete, the new club house at Rosedale Sports Club will be a fantastic asset for the local community to enjoy and on behalf of the Council, I would like to share our thanks to the Crest Nicholson team for their hard work on the build so far. Crest Nicholson is an important supporter of the local community at Cheshunt and its support is very much valued in the area.
"It's wonderful for Cheshunt to receive such investment, and the project shows what we can achieve as a team when we work together."

Carol Crump, Deputy Mayor, also commented: "There is a real need in Cheshunt for more high-quality new homes, so I welcome the launch of a development of Grangebrook's calibre; it's been fantastic to view such a well-designed collection of homes. Crest Nicholson's support for the local community has also been brilliant, and the new rugby club house will be a great facility for Cheshunt residents."
With several developments in the local area, including the new Grangebrook development, Sovereign Gate and Aldermere s, Crest Nicholson has a history of supporting the local community. Most recently it donated money towards a life-saving defibrillator at the sports club, as well as the purchase of new club shirts.
Homes at Grangebrook are available now, with prices starting from £1,200,000. To find out more, call 01992 286000
Back