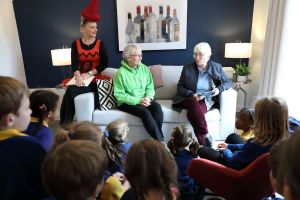 To celebrate World Book Day on Thursday 2nd March, award-winning developer Crest Nicholson hosted a 'Story Time' event for local primary school students, at its popular Union Place at Monksmoor Park development in Daventry, Northamptonshire.
Groups of pupils between the ages of four and nine, from Monksmoor Park CE Primary School visited one of Crest Nicholson's Winkfield show homes for two readings hosted by local authors Rosemary Sturge and Monica Withrington. Rosemary read Monica's book Pula! and Monica read her own work The Dream of Gideon the Grape with accompanying puppet characters.
World Book Day is marked globally in March each year, to celebrate literature and encourage reading for pleasure amongst children. The international day looks to support all children, especially those from disadvantaged backgrounds, to have access to books and foster their future success. Alongside hosting the event, Crest Nicholson has provided copies of the stories read during the event for each of the pupils in attendance to enjoy.
Vanessa MacNee, Sales and Marketing Director at Crest Nicholson Midlands, commented: "Schools are at the heart of the community and are an integral part of the lives of the families at Monksmoor Park. World Book Day is a highlight of the school calendar and it's a pleasure for us to be able to host events like this in our show home and share the joys of books and reading with young children."
Amy Hornett, English Lead at Monksmoor Park CE Primary, commented: "All of the children who attended the event thoroughly enjoyed the day. Providing children with unique experiences such as these, are really valuable in showing our pupils the joy in reading and sharing. We are very grateful to Crest Nicholson for inviting our pupils along and the team's generous donation of books for the children to enjoy."
Back