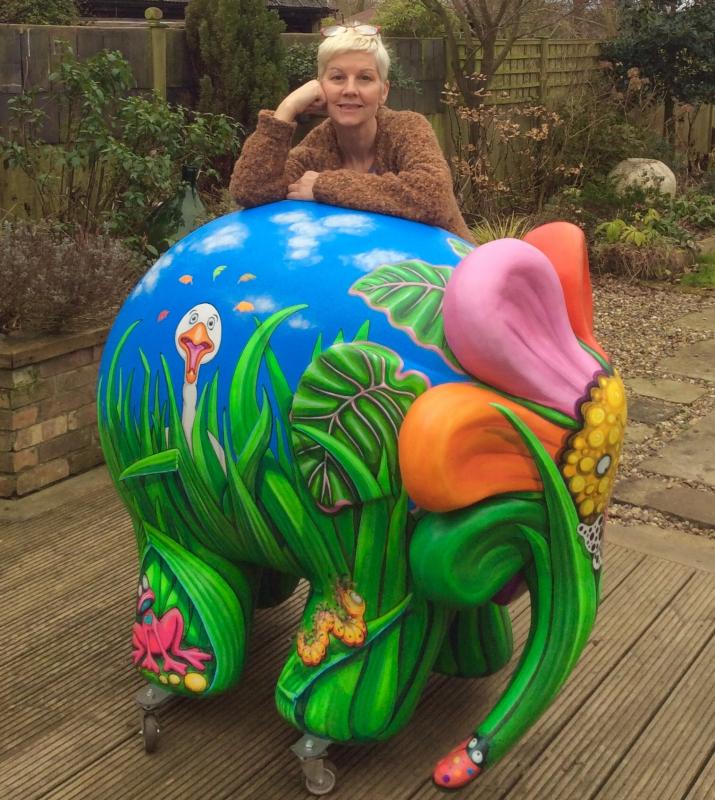 Award-winning developer Crest Nicholson has sponsored an elephant sculpture as part of Elmer's Big Parade Suffolk. To mark the 30th anniversary of both St Elizabeth Hospice and Elmer, many unique and brightly painted sculptures will be installed around Ipswich for twelve weeks from the 15th June until the 7th September.
The parade will feature 55 individually designed elephants from national and local artists based on the beloved children's character, Elmer the Patchwork Elephant. Crest Nicholson sponsored Norfolk based artist Sally Adams, who created a unique Elmer by transforming the elephant into a flower, using vibrant colours to bring the sculpture to life.
Commenting on her sculpture, Sally Adams said: "I wanted to make my Elmer unique, and I was able to do so thanks to my background in prop-making. By moulding Elmer's head into a flower I was able to create a one of a kind individual. The contrast between light and dark strokes of colour create a dynamic cartoon imagery which I think will particularly appeal to children."
St Elizabeth Hospice improves life for those living with progressive or terminal illnesses through specialist palliative and end of life care. Each large Elmer sculpture will be auctioned at the end of the parade to raise funds for the hospice.
Andrew Dobson, Managing Director at Crest Nicholson Strategic Projects, added: "As a leading developer we have a passion for creating vibrant, sustainable communities surrounding every home we build, and we recognise the importance of supporting local charities and businesses, such as St Elizabeth Hospice. We are proud to be involved with this year's Elmers Big Parade Suffolk by sponsoring an elephant and look forward to visiting the art installation around Ipswich. It's great to see local artists and the community come together to support a very worthy cause."
Norman Lloyd, Campaign Manager at St Elizabeth Hospice, said: "I have been really pleased to see how businesses have really stepped up to support our trail this year. We have some truly stunning designs and we are very proud of them all. We are very grateful for Crest Nicholson's support and we hope they enjoy playing their part in the parade; I'm sure their sculpture will be really popular, it is a very eye catching design."
Back