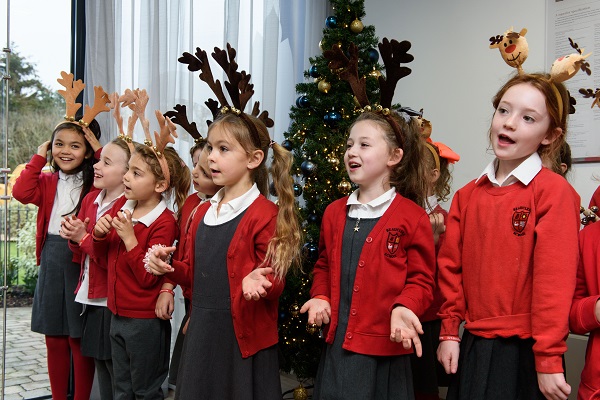 Crest Nicholson's South division is proud to announce its support for the Beauclerc Infant and Nursery School in Sunbury-on-Thames. The award-winning developer has recently donated £250 to assist with the school's annual Christmas Fayre, which took place on Friday 7th December.
Crest Nicholson has been supporting the school's annual Christmas Fayre for several years, which typically receives up to 250 attendees across the school and local community. The family activities enjoyed this year included everything from a Santa's Grotto and Christmas arts and crafts for the children, to a festive family BBQ and games, ensuring there was something for everyone.
The school's choir also performed a Christmas carol concert at Crest Nicholson's nearby development Park Avenue in Lower Sunbury to help the children, their families and residents get into the Christmas spirit. The carols offered an opportunity for the entire local community to come together and enjoy light music and entertainment to kick off the festive season.
Christine Tiernan, Sales & Marketing Director at Crest Nicholson South, said: "We enjoyed hosting the Beauclerc school choir at Park Avenue for an afternoon of festive carols. It was a real pleasure to see our residents and members of the wider community attend. We consider it a real privilege to be supporting the school's Christmas Fayre this year, as we recognise its importance for the school and local Sunbury community.
"We would like to wish the school and our residents a very Merry Christmas and look forward to continuing our support for the Beauclerc community in the years to come."
Emma Eggleton, PTA Chair at Beauclerc Infant and Nursery School, added: "We are really grateful to Crest Nicholson for sponsoring our Christmas Fayre and for their ongoing support. Beauclerc is a small school, and events like this are really important for raising vital funds and bringing our pupils and their families together.
"It requires a lot of time and money to organise a Christmas Fayre, so having this support will help us to raise more money for the school. This year, funds raised will go towards the installation of much-needed clever touch smart whiteboards in each of our classrooms. We'd like to express our thanks again to Crest Nicholson and hope that they enjoyed the performance from our talented choir."
Park Avenue offers local residents in Sunbury a contemporary selection of spacious homes suitable for the needs of a variety of modern home buyers, from first-time buyers to growing families and downsizers alike. All homes are completed to a high quality specification, with carefully landscaped community spaces, featuring a charming village green and central parkland, designed to ensure families can really thrive in this growing community.
To find out more about the homes available at Crest Nicholson's Park Avenue, the Sales & Marketing suite is open Monday to Friday from 10am to 6pm, until 7pm on Thursday, and from 10.30am to 5.30pm on Saturday and Sunday. Prices for two-bedroom apartments are available from £439,950, while prices for three-bedroom homes begin at £734,950. For more information about the development or the Help to Buy scheme, please call 01932 967 980 or visit www.crestnicholson.com/park-avenue.
Back