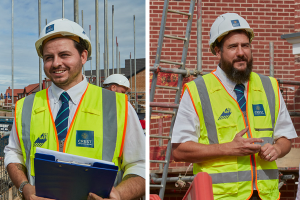 Two site managers from local housebuilder Crest Nicholson have won top awards in recognition of their excellent work at the Lewin Park development in Langford, Bedfordshire. Site Manager, Paul Hewitt, and Assistant Site Manager, James Eley, each received a 'Quality Recognition Award' from the Premier Guarantee's Excellence Awards.
The award recognises individuals who consistently deliver quality work and site management on their developments, ensuring that high quality homes are produced. Winners are announced each month throughout the year, culminating in an annual event held to recognise winners' achievements. At the event, people from different businesses within the industry come together to celebrate each other's success, learn more from each other and discuss their future plans. Paul and James were chosen as the August winners and will now be in contention for the annual award.
Paul Hewitt, Site Manager for Crest Nicholson's Lewin Park development, comments: "We have a great team at Lewin Park, who are always looking to go the extra mile to ensure our site team provide an exceptional experience for not just Lewin Park's new residents, but the wider local community too. This award showcases the whole team's exceptional efforts and reflects our aim to deliver homes that we can be proud of."
James Eley, Assistant Site Manager for Crest Nicholson's Lewin Park development, says: "We are pleased to receive this award and to be in the running for the annual award. This win is no doubt down to the dedication of the team we have here at Lewin Park and within the wider business. Everyone takes pride in the work that we do to provide a smooth journey for buyers during the home moving process, right from our very first day on site."
Charlie Joseph, Sales and Marketing Director at Crest Nicholson Chiltern, adds: "Congratulations to Paul and James, their award win is well deserved and shows their commitment to Lewin Park, demonstrating their skills and great leadership amongst the team. The site award win reflects the quality of not just Lewin Park, but Crest Nicholson's wider developments and workforce, meaning homebuyers can be confident they are purchasing homes of the highest standard."
Lewin Park is located in the scenic countryside of Central Bedfordshire, providing residents with the benefits of countryside living whilst being within easy reach of local amenities. The village of Langford offers residents bars, shops and restaurants, plus for those who enjoy the outdoors, Stortford Watermill and Nature Reserve. Nearby Biggleswade is home to further amenities and activities, including the Shuttleworth collection which showcases unique vintage aircrafts.
The development is located less than three miles from Biggleswade train station, running regular direct trains to London St. Pancras Station in 30 minutes. With great access to the A1 and M1, this is an ideal location for those who need access to the surrounding towns and cities such as Bedford, Cambridge and Luton, and the M25 for onward travel.
With a range of three, four and five bedroom homes available, Lewin Park is perfect for families looking to upsize. For those with young children, Langford Village Academy and St Andrew's C OF E VC Lower School are 0.9 and 1.2 miles away respectively, and both rated Good by Ofsted.
Prices for three, four and five bedroom homes start at £375,000, £520,000 and £660,000 respectively, with select plots available to purchase SmoothMove, Part Exchange and Deposit Unlock. For more information about the development, or to book an appointment, please call 01462 354502 or visit www.crestnicholson.com/lewin-park.
Back