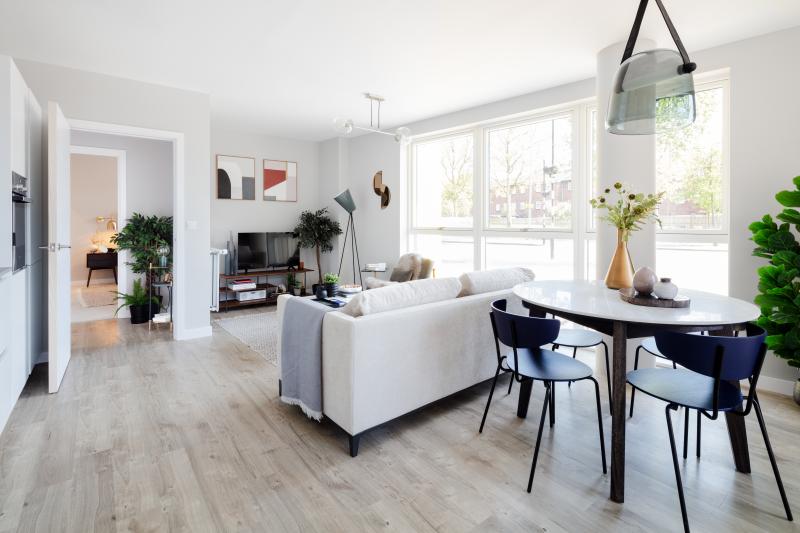 As interest rates remain abnormally low, following UK mortgage approvals hitting a nine-month high last year, potential home buyers in London have a great opportunity to land their dream new home.
Annette Cole, Sales and Marketing Director at Crest Nicholson Eastern said: "Interest rates for both fixed and variable mortgages in 2019 continue to be at an all-time low, making now a very good time for buyers in London to get onto the property ladder. New build homes are an attractive option to many purchasers – offering benefits, such as subsidies like the government's much lauded Help to Buy scheme, energy efficiency and cheaper running costs.
"Fixed mortgages also provide a viable option for homebuyers to lock in a low interest rate for the next five or ten years, seeing out any uncertainty in the market."
And what about renters and first-time buyers looking to get a foot on the ladder? Research has found London residents would save an average of £2,268 a year* if they bought a property rather than renting something very similar.
So why buy new?
Annette Cole, Sales and Marketing Director at Crest Nicholson Eastern shares the five key advantages of choosing a new build home for your next move:
1. No chain
According to a survey by Which? In 2017, around three out of ten property purchases in the UK collapse, at an average cost of nearly £3,000 to each buyer. And with one failing link in the chain risking the collapse of the whole property chain, it's a major consideration.
Downward chains can be one of the most frustrating experiences when buying a house, with one in three sales falling through after the offer price has been accepted. New build homes come with the added benefit of having no upward chain to consider. This means the whole process is much less stressful and often quicker than a second-hand purchase.
2. Peace of mind
All new-homes are independently assessed during construction and covered by a 10-year warranty. Home security and low-level maintenance are built in from the design stage and every home undergoes a stringent 'fit for purpose' inspection prior to occupancy.
3. Value for money
New homes are built to a much higher specification than the majority of older homes, so you often get better value for your money. They have central heating, double-glazing, floor and wall insulation as standard. Other features also including fitted kitchens with integrated appliances and stylish bathrooms. New build homes also offer superfast broadband from the day buyers move in, and thanks to our partnership with Hyperoptic, Crest Nicholson is currently offering three months free service for purchasers.
4. Tailored to your lifestyle
New homes are built to make use of every inch of space. Often in older properties, with dated layouts, living space goes unused. New homes on the other hand provide large flexible living spaces than can be tailored to your lifestyle. Whether you're single, a couple, a growing family or retired, you will find the right layout for your needs.
5. Lower running costs
The average new home is up to four times more energy efficient than a traditional second-hand home. New homes have excellent insulation and the latest energy saving appliances. This means they have lower running costs compared to traditional homes.
And finally, they are a blank canvas and give you the freedom to make your own choices
One of the core benefits of a new home, is just that, it is brand new. This means that they're ready to move in and to enjoy without any concern about what has been glossed over by previous owners. Residents need not worry about renovations or making do with previous residents' decisions. When moving into a brand-new home, residents can focus on making their house their own straight away.
Annette Cole, Sales and Marketing Director at Crest Nicholson Eastern continued: "Home ownership is an important ambition for many people and likely the largest investment most of us will make in our lifetime. However, many of us are not aware of the many benefits of buying new. Our developments in London and Essex have a number of different house types to suit all needs.
"We encourage anyone interested in learning more to contact the Crest Nicholson sales team or pay us a visit on site at our developments."
Crest Nicholson's Essex Brewery in Walthamstow is offering great deals for first time buyers, second steppers, investors and downsizers. The refined collection of houses and apartments have something to suit all needs.
Take the leap
The Crest Nicholson sales team is always available to talk to potential buyers about the advantages of buying new. For more information, please visit the Crest Nicholson website at www.CrestNicholson.com.
Back